CALI.

THE LUXURY SIDE OF MYKONOS
Luxury PORTFOLIO CREATION
cali mykonos 2023
"MIRROR THE LIGHT OF YOUR SURROUNDINGS"
MODERN WEDDING concepts from Cali will elevate your brand and attract the right couples for you
You will be the first to shoot A sophisticated beach ceremony with a poolside reception AND a NIGHTTIME PARTY SHOOT AT the new five star luxury venue in mykonos. 
write YOUR glamorous STORY with ALCHIMEIA Cali 2023!
designed with the modern party couple in mind.
Cali 2023 portfolio building event is for you if you want to grow your stylish portfolio to attract a modern fashionable party couple!
Style: Modern, minimal, the lane, fashion-forward, edgy, sophisticated, Luxury Mykonian
for: wedding photographers and filmmakers
DATE: 17th Nov 2023
time: 12:00-22:00
ADDRESS: Cali Mykonos
Kalafati, 846 00 Mykonos, Greece
max 8
"ONE STEP CLOSER TO YOUR ULTIMATE PORTFOLIO GOALS"
"Alchimeia in one of the most significant investments that you can offer into your business and your personal brand to come one step closer to your ultimate portfolio goals!"
Images  for Alchimeia – Fotis Sid Photography, Roman Ivanov
meet us on the luxury side of mykonos
 CAPTURE THE MOMENT
INVESTMENT.
capture MYKONIAN LUXURY ISLAND LIVING
modern Portfolio Building event Hosted at the five start exclusive resort in Kalafati, Mykonos,
 900€
Included:  COFFEE, water, SNACKS, food, professional Models (Bride & Groom ), professional hair and makeup, wedding shoot with 8 GLAMOROUS sets – bridal fashion editorial, beach ceremony/arrival setup,  luxury party & ceremony setup, modern cake & stationery
EXTRA:
A SHUTTLE CAN BE ARRANGED for an extra fee.

Prices are without tax
Limited space available
SELECTED PARTNERS
BECAUSE OUR EVENT CAN ONLY BE AS AMAZING AS OUR TEAM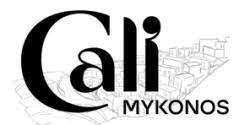 Joanna Stella Papathanasiou
Makeup & Hair Syling
Maria Kogia
Wedding Cakes
THE CURATORS.

Reach your goals with amazing imagery you will capture at CALI.
GET GUIDANCE FROM THE CURATORS OF ALCHIMEIA
WHAT YOU CAN EXPECT.
welcome and get to know each other
networking and round table discussions
BRIDAL FASHION EDITORIAL & MODERN COUPLES PORTRAITS with professional models
Cake and stationery – modern flat-lays
Glamorous beach ceremony with a catwalk ON/FROM the sea
Luxury poolside wedding TABLE setup with sophisticated & minimal decor
a modern party setup with an interesting and fashion-forward wedding ceremony arch at the cliff-side venue with uninterrupted sea views
The opportunity to be the first to shoot in an exclusive resort with the best vendors in the industry!
–
Style diction: silver, mykonian luxury, high class, shiny mirrors, island white, glam, minimal but over the top!
We will shoot at night so please BRING YOUR EQUIPMENT, like the FLASH, LIGHTS, ETC. If you need
We will shoot indoors and outdoors so please be prepared for possible rain showers and strong wind as mykonos is know for strong winds.

THE SCHEDULE
THE SCHEDULE IS SUBJECT TO CHANGE. ALL FINAL DETAILS WILL BE SENT BEFORE YOUR ARRIVAL.

Created by some of the top professionals in the Greek wedding industry
WELCOME TO CALI.
11:00pm
Morning arrivals AT Cali
Welcome coffee and snacks
Talks with the team and the introduction to the mood of the shoot
networking opportunity
Shooting time
12:00PM
hotel grounds / venue 
modern flat-lays & cake shoot
1:00PM
groom model shoot
Luxury poolside wedding dinner setup with sophisticated decor
closeup decor & art de la table
2:00pm
 backstage and bridal editorial with the model
artistic Couple shots at the rocks
3:30PM
Glamorous beach ceremony / arrival with a catwalk from the sea
day-light fireworks from the sea
5:00PM
glamorous ceremony setup at the cliff-side venue with a view of the sea
COUPLES PORTRAITS under the elaborate arch
6:00PM
light show on the pool & TABLE TOGETHER WITH couples portraits
6:30PM
a modern WEDDING DANCE party SHOOT
After sunset NIGHT PARTY & DJ set SHOOT with fireworks or special effects
9:00PM
GROUP DINNER
"IT WAS AMAZING"
"It was amazing working with you and your team. Can't wait for the next Alchiemeia photoshoot!"
FREQUENTLY ASKED QUESTIONS
ANSWERED

Designed for photographers and filmmakers who love the world of weddings, romance, high-end fashion and bespoke Greece.

It is for you, if you want to elevate your portfolio and are ready to capture uniquely designed, magazine worthy "Instagramable" stories. You should join if you want to be surrounded by like-minded creatives who are eager to produce outstanding work and get inspired from each-other's creative energy!