"Focusing on growth by portraying real emotions through exclusive content represents us"
WHO WE ARE
CURATED BY
KISS FROM FLEUR & ELLWED

ABOUT ALCHIMEIA.
Make Yourself and Your brand a Priority.
Grow your brand with thoughtfully curated editorials and styled shoots in Greece.
You do what you do best and we provide the stylish and unique concepts to help you reach your goals.
Join this Curated Destination Portfolio Building workshop
with Kiss from Fleur and Ellwed Magazine. Exclusively designed by Anna-Jill with her unique aesthetics and specially selected elements from internationally sourced vendors.
our goal is for you to find and develop your own style and stimulate your artistic approach. All while capturing romantically ethereal editorials at some of the top up-and-coming destinations from Greece!
Photo: FotisSid Photography
WHO WE ARE & WHAT MAKES US

THE EXPERTS
"My heart is in my mind"
– Anna-Jill of Kiss from Fleur
CO-FOUNDER
ART DIRECTOR
Boutique
Wedding Planner
and Designer
Coming from the Fashion world with love for weddings and romance, Anna-Jill of Kiss from Fleur brings a unique style and vision of each event setup. The editor at British Vogue described her: "With her creative flair Anna-Jill puts her heart and soul into designing weddings that capture people's heart." As a romantic story maker, Anna-Jill will teach you all about her vision telling ideas, explaining the concept and the mood board of each shoot you want to undertake to realize the vision of a stylist into the artistic storytelling.
Her work is desired and sought after by many professionals from the wedding and fashion industry. From designing styled shoots and lookbooks for bridal designers to full brand styling, Anna-Jill understands the importance of preserving the specific details throughout any design project.
Her shoots were featured in many magazines and blogs such as Brides, Vogue, Martha Stewart Weddings, The Lane, White Mag, Style Me Pretty and many more. She strives to deliver the utmost quality to any project she undertakes to ensure the best possible outcome. As a trendsetter, her vision and sense of style are fashion-led with subtle hints of love and romance. And this time it will be no different!
"Step to the creative side and thrive"
– Sanya Percic from Ellwed
Co-Founder
Editorial
Director

Founder of
Ellwed Magazine
Designer & Creator
After finishing Fine Arts and Masters in Design with a major in Branding, Sanya created a destination wedding planning brand which led her to start the Ellwed Magazine. The first boutique international bridal magazine for weddings in Greece, available digitally and in bespoke print. Ellwed Magazine is now distributed digitally around the world and their cover shoots were featured in numerous major wedding blogs like Green Wedding Shoes, Martha Stewart Weddings, Wedding Chicks, among others. As well as in books and the International Trend Reports along with her expert advice articles on destination wedding trends.
Sanya was invited to speak and teach at different wedding summits as well as interviewed by podcasters in the industry. She believes in the power of community and changing the wedding industry to grow with the trends!
As a founder of creative brands starting from zero, and with her knowledge from both worlds, Sanya understands the necessity of marketing and branding for all creatives! You will be able to ask her all about submissions, styled shoots and how to stay true to yourself in your brand to stand out of the crowd. She's always working on helping fellow creatives achieve their potential, as we are all unique!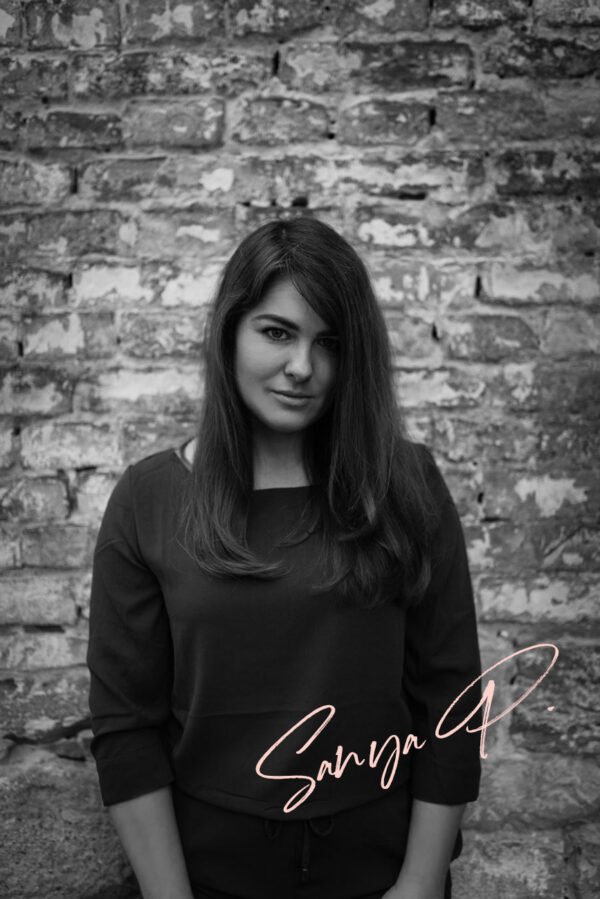 al · che · my / æl · kə · mi
(noun)
The medieval forerunner of chemistry, concerned with the transmutation of matter, in particular with attempts to convert base metals into gold or find a universal elixir – a seemingly magical process of transformation, creation, or combination.
JOIN
THE ULTIMATE PORTFOLIO BUILDING EXPERIENCE
IN GREECE