THE MARGI FARM X ALCHIMEIA

JUNE 2021
Become an Alchemist and transform your base into gold with us at The Margi Farm. unique and conscious luxury farm venue, at the rural Athenian riviera.
Transform your brand with this  luxury experience at one of the most famous wedding venues in Athens.
Few minutes from the Athenian coastline, tucked away in the completely private piece of land, you can experience the luxury part of Greek Rural life and elevated traditional style. 
We will create the new fashion inspired experience which will definitely make your portfolio stand out!
Fashion meets Wedding meets the farm! Nothing will be left to chance at this set with Anna's experienced designers eye.
DATE: 2nd June 2021
Location: The Margi Farm
EDITORIAL 2021

GET THE FEELING
INVESTMENT
Luxury Portfolio Building Editorial, limited to maximum 6-7 spots.
For Photographers and Videographers
Included: Bridal Fashion editorial shoot with setup
For one 500€
Last minute booking upon availability has 20% price increase.  Prices are without tax
Limited space
SELECTED VENDORS
BECAUSE OUR EVENT CAN ONLY BE AS AMAZING AS OUR TEAM
V a s i l i s   S i a m p a l i s
_ Fashion,Portrait and Wedding Photographer
_ Backstage at The Margi Farm Editorial
final team to be announced
THE CURATORS.

Reach your goals with amazing imagery you will capture at THIS RETREAT.
GET GUIDANCE FROM THE CURATORS OF ALCHIMEIA
THE
STORYTELLER
ANTHONY
VENITIS
THE ALCHIMIST
OF WEDDING
ROMANCE

High-end video creator for destination weddings and elopements, judge at WEVA International Awards. Anthony received multiple awards by Inspiration Photographers and was nominated by Way Up North as Europe's Best Wedding Videographer in 2019. As the winner at film festivals for best cinematography and editing, his wedding film was honoured with a full week screening at the Laemmle Theatre in Hollywood, LA in summer 2019.
Besides wedding cinematography, Anthony has captured events and created content for famous CEOs, athletes and other high-profile celebrities. Over the last years, his award-winning work has been featured in Vogue, Harper's Bazaar, Junebug weddings, Wedding Chicks, 100 Layer Cake and more. Anthony is a passionate international videographer who will talk to you about creating and capturing emotions and the proper mood. Focused on storytelling, you will talk about the ways to transfer the vision of any project into video.
THE
ARTIST
GEORGE
STRATIGIS
THE ALCHIMIST
OF BRIDAL
AESTHETICS
Emerging artist, fashion photographer and cinematographer with signature vision. George utilizes a contemporary blend of creative documentary and fine art portraiture. From an editorial perspective he is hunting for timeless beauty and human expressions. Featured in multiple fashion magazines and blogs as C-Heads, S Magazine, French Fries, Kodd Magazine, Paramano and more. Through the years, George shot campaigns for many fashion and bridal designers, like Irene Angelopoulos, Sotiris Georgiou, Teti Charitou and many more.
Rather than weddings, George comes from the world of fashion industry, advertising films and experimental visual language. With him, you can discuss the matter of inspiration, the keys of developing your own values, enhance your personal approach and push the intellectual boundaries above expectations. George will focus on expression, aesthetic, contemporary cinematic photography and how to build your fashion-editorial portfolio.
You will have the chance to get inspired, explore and captivate the vital energy of human nature, while creating meaningful content that has an impact beyond time.
THIS EXPERIENCE
INCLUDES
Water, coffe and Snacks
Portfolio Building Set
Creative briefing and art direction
speeches from the team
Different setups and concepts to capture the story
2 female fashion models
Romantically Ethereal Wedding ceremony with a backdrop
Reception or table setups with high-end lux components from some of the top professionals in the wedding industry from Greece and worldwide.
Effortless Glamour Fashion editorials – different setups of the modern bridal love story around the resort to build your magazine worthy portfolio.
The opportunity to shoot in the exclusive Margi Farm & networking
Honest conversations on the set about your creative business, branding and creating a cohesive style and story line.
Photos and or Video with Backstage from our team if you will need for your marketing.
Max 6-7 Attendees
Does not include:
lunch or dinner
transportation
accomodation
THE SCHEDULE
ALL FINAL DETAILS WILL BE SENT BEFORE YOUR ARRIVAL 
Arrival
Setup/coffe/briefing
Shoot
Snack Break
Speech
Shoot
"One step closer to your ultimate portfolio goals"
"Alchimeia in one of the most significant investments that you can offer into your business and your personal brand to come one step closer to your ultimate portfolio goals!"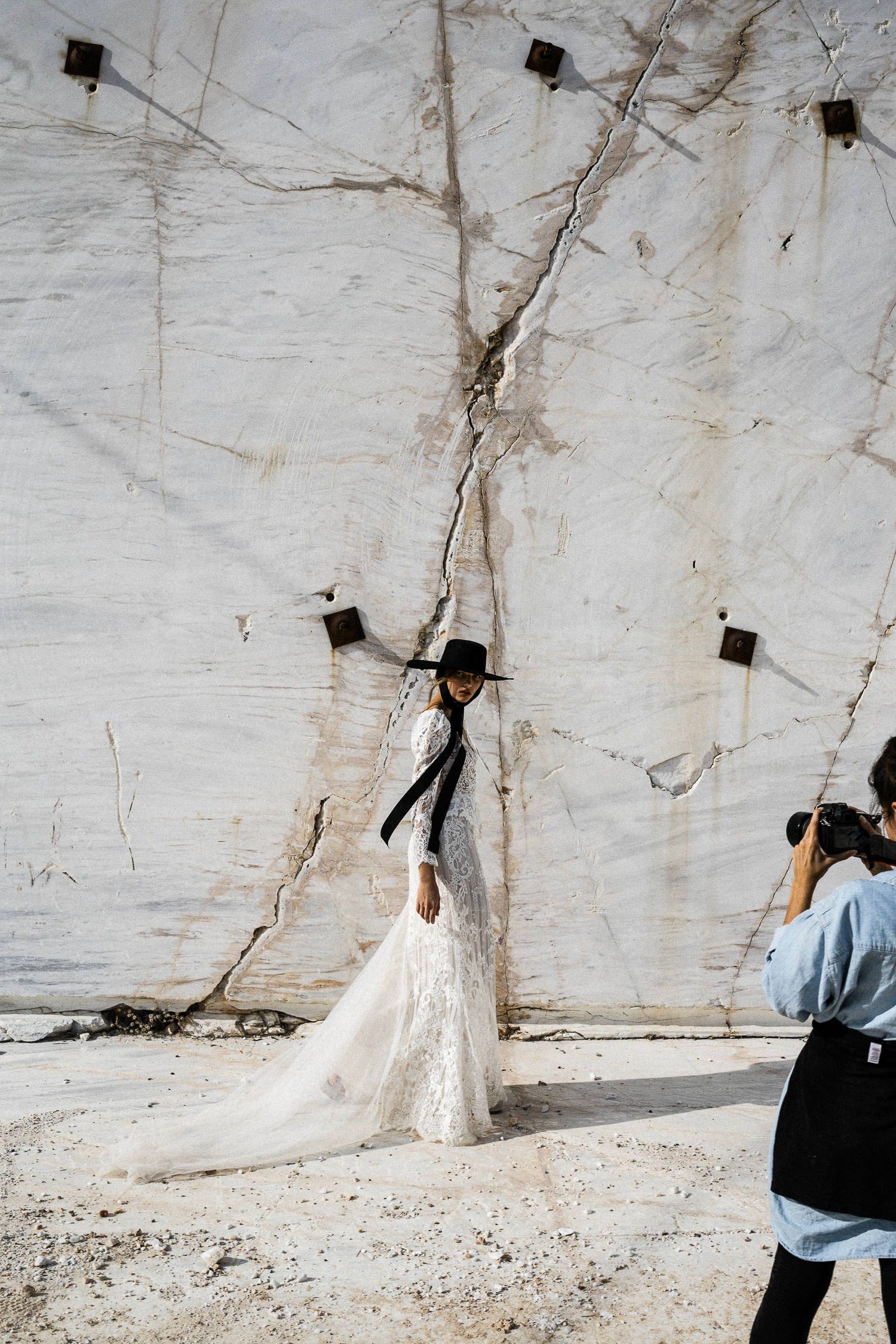 the why.

The Margi Farm is a unique wedding venue and organic farm in the heart of Athenian Riviera. Providing a unique background for this bridal fashion inspired editorial shoot.
This is a one day editorial shoot where you will be able to capture the story of a modern fashion-forward bride with Seductive setups and and backdrops.
When you book The Margi Editorial, you will have the The chance to be chosen for the next Ellwed Magazine Cover and featured on the blog.
FREQUENTLY ASKED QUESTIONS
ANSWERED

This retreat is designed for photographers and videographers who love the world of weddings, romance, high-end fashion and bespoke Greece.
It is for you, if you want to elevate your portfolio and are ready to follow Anna's heart and catch her vision to create magazine worthy Instagramable moments. You should join if you want to be surrounded by like-minded creatives who are eager to produce outstanding work and get inspired while relaxing in the serene nature by the beach!